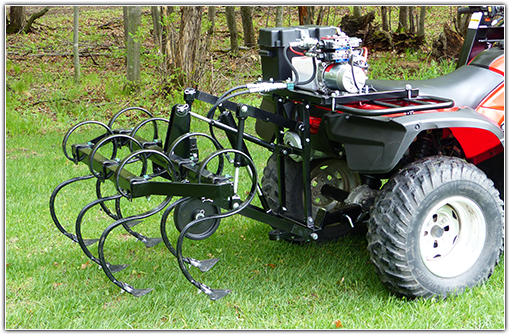 If you have a love for the outdoors and live on a large plot of land chances are you have an ATV. There's also a good chance that you have a garden that you use to grow beautiful fruits and vegetables to enjoy. The problem with tending your own garden is that it takes a lot of work. First you have to prepare the soil, next you have to plant all of the different fruits and vegetables and then finally you can enjoy watching your garden grow and produce food for your and your family. What if you could make this process much easier with a little help from your ATV? Well, you're in luck because Wild Hare Manufacturing, Inc. has released a whole line of ATV attachments that can make keeping up with tough tasks around your land as simple as pushing a button on your ATV to lower your hydraulic powered ATV cultivator into the ground!
How Does the ATV Hydraulic Cultivator Attachment Work?
The ATV 3 point cultivator works with our 3 Point Hitch kit. This ATV attachment is powered with an auxiliary hydraulic kit mounted in the rear, which gives you plenty of power at your fingertips! With Wild Hare ATV implements you have the option of using front and rear attachments at the same time, depending on the 3 point hitch that you choose. We offer a standalone 3 point hitch that is used by customers that only are interested in our rear mounted attachments. If you're also interested in our front mounted ATV attachments like our front end loader or front end forks, you'll want our add on 3 point hitch, which gives you the option of using both a front implement at the same time you're using the hydraulic cultivator. Wild Hare Manufacturing uses rocker switches to easily control both the front and rear attachments with ease. Once you utilize our ATV attachments you'll wonder why you've been letting your ATV gather dust in your shed for so long!
ATV Cultivator Specs:
Solid construction from heavy duty steel
48" wide cultivator swath
Hydraulic powered offering both downward and upward pressure
6 different settings to control depth
Fits most ATVs with our three point hitch system
7 Replaceable tines
Interested in More Information about our ATV Attachments?
If you're intrigued by our line of ATV attachments, feel free to pick up the phone and give us a call today at 218-483-1000 and we'll be able to answer any questions you may have. Start making those rides on your 4 wheeler much more productive thanks to our ATV implements.