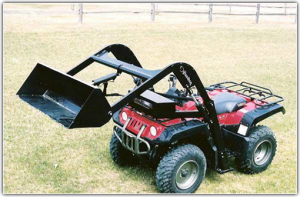 Looking to turn your ATV into a part of your work equipment fleet? ATV vehicles have the power and strength to work on nearly any type of location whether it be farming, landscaping, construction, or storage. Wild Hare Manufacturing, Inc. has just the thing to turn what was once a fun toy into a productive tool. Now is the time to invest in our quad front end loader, which will help you be more efficient no matter what type of job you are tackling. Throw out the wheelbarrow and put your faith in our durably constructed front end loader products today.
Popular Uses of ATV Front Loaders
The hydraulic power of our quad front end loaders make it an incredibly useful tool when handling heavy items. With just the click of a button, your 4 wheeler will be able to lift and maneuver up to 500 lbs of weight using up and downward force. ATV front loaders are commonly used to pick up or move snow during the winter months. Additionally, these tools do great with moving mulch, and lifting heavy items into the back of your pickup truck. The suspension locks on these products allow you to place the front loader at any level necessary to get the job done. One important thing to note is that you should not exceed 5 miles per hour while the front loader is hooked to your ATV.
ATV Brands That Work
Our front loaders with hydraulics are able to fit the following manufacturing ATV's:
Honda
Kawasaki
Polaris
Suzuki
Yamaha
Bombardier
Arctic Cat (2004 and older)
Custom Requests – If your ATV does not fall into these categories reach out to us to see if we can create a custom front loader to fit your 4 wheeler.
ATV Attachments above the Rest
You should consider teaming with Wild Hare Manufacturing for all of your ATV front loader needs because we have total ownership of the Groundhog equipment. All of our parts and materials are readily available if something was to go wrong. We are so confident in our products that we offer a one year warranty to help the customer know that they'll be taken care of if something should happen.
If you have been looking for a way to turn your ATV into a productive, working machine, Wild Hare Manufacturing, Inc. can help! Give us a call today at 1-218-483-1000 or take explore our website to learn more about our products!