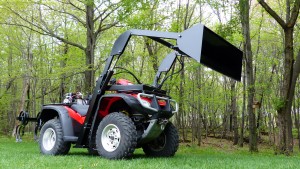 During these hot summer months, getting the land prepared for hunting can be extremely hot and tiresome. Making sure that you are hydrated is a top priority. Even in areas like Michigan, Minnesota, and Wisconsin, it seems like lifting those food plots for deer, bear and elk during the summer is much harder than during the cooler months. Well, if you have an ATV around your land that is not getting much use, Wild Hare Manufacturing, Inc. may be able to help. By using our ATV hydraulic front end loader attachment system, handling your food plots will soon become a breeze!
Benefits of An Hydraulic Front End Loader for your ATV
First and foremost, our hydraulic front end loader handles all of the major lifting associated with food plots. These food plots can weigh hundreds of pounds. A job that once took up a bulk of the day can now be done in an instant thanks to this ATV attachment. With our easy turn around features, you are able to place the food plots in nearly any size space. This front end loader attachment can hold up to 500 pounds and has the ability to raise the weight up to 5 feet high. Another great benefit of this attachment is the fact that you do not have to purchase a larger piece of equipment like a tractor or Bobcat.
Our ATV Attachments all come with a Warranty
For the original purchaser, our ATV front end loader attachments come with a 12 month product warranty on the materials and workmanship of our product. Once you give our product a try, this long lasting attachment will become a necessity for you in the future as you prepare your hunting land each year.
ATV Specifications for our Attachments and Implements
When using the ATV front end loader attachment, it is recommended that you do not exceed 5 mph. Additionally, your ATV should be between 400cc and 700cc in order to utilize this work horse. Our ATV attachments are able to fit the following ATV models:
Honda
Kawasaki
Polaris
Suzuki
Yamaha
Bombardier
Arctic Cat (2004 models and older)
Throw away that wheel barrow, and invest in our easy to setup ATV front end loader today! Let our hydraulic attachment help you beat the heat this summer. Spend more time hunting on your land and less time preparing the food plots. Give Wild Hare Manufacturing, Inc. a call today at (218) 483-1000 to learn more about our front end loader for your ATV.