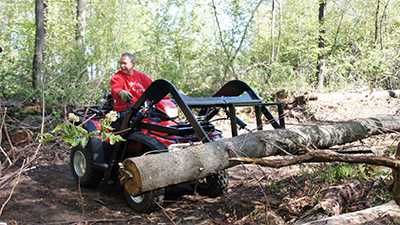 No matter where you live, if you have trees, storm damage is bound to happen. Whether it's a large snow storm up north, hurricane damage on the coast, tornado damage in the midlands, or fierce winds in the mountains, storm damage happens and it can happen to you. When the area is safe to venture outside, it can look like a devastating mess. When trees go down or debris is scattered throughout your yard, it's hard to know where to start. Fortunately, if you have an ATV, you are already halfway there! Let Wild Hare Manufacturing help you the rest of the way! With our ATV attachments, like the Front End Loader and Front End Forks, your storm damage can be cleared away in no time. By attaching these simple tools, you can save yourself tremendous amounts of time and money!
The ATV Front End Loader
While ATVs are useful in many ways, one of their most vital components happens to be power. What good is power though when you can't utilize it? Wild Hare Manufacturing provides the ATV front end loader attachment for almost any make or model and can help you utilize your machine like never before. Our front end loader lifts and lowers loads up to 500 lbs. With excellent hydraulics, you can easily back blade. So whether you are lifting debris or shoveling snow off of the ground, our front end loader attachment can help you after a storm when you need it most.
The ATV Fork Attachment
Tree go down in your front yard? You will be the neighborhood hero after a storm with this easy attachment. Whether you are moving crates in a warehouse or logs out of your driveway, the fork allows for easy lifting, lowering, and control. This attachment saves an insane amount of time and money that would have otherwise been spent strenuously laboring to move heavy duty debris.
Both attachments can hold up to 500 lbs. of weight. They can lift up to 5 feet in the air and are very easy to control. Installation on our attachments may take around 45-60 minutes, but once the initial mounting is complete, you can take these attachments on and off within 5 minutes. No matter where you live, storms will come. Will you be prepared? Let Wild Hare Manufacturing put your mind at ease so you can focus on the more important things when disaster strikes. To order your ATV attachments today, call us at 1(218) 483-1000.