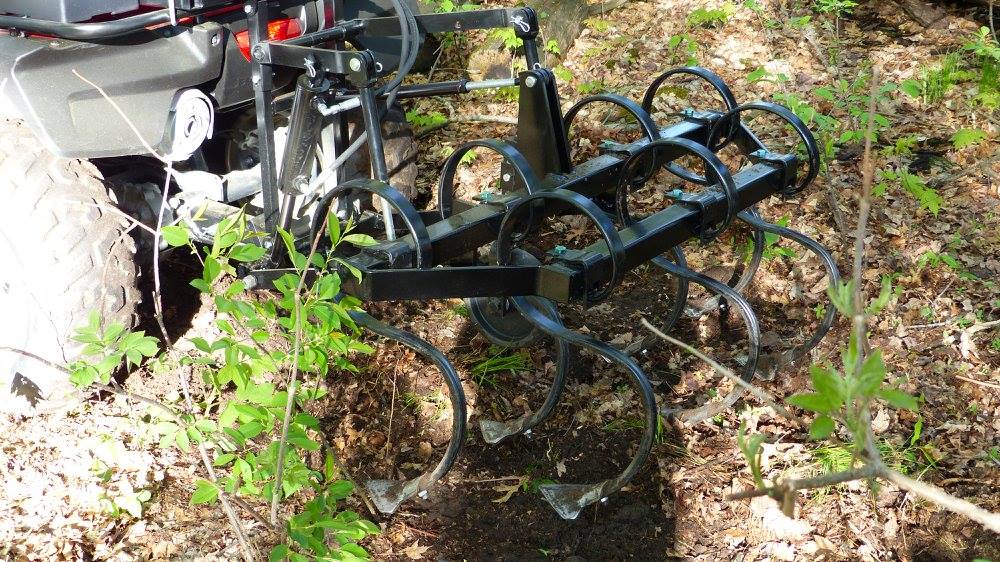 At Wild Hare Manufacturing, Inc., we are proud to be a company that is confident in our products and adds value to anyone looking to get the job done. At Wild Hare Manufacturing, Inc. we have a hydraulic ATV cultivator attachment that makes tilling, chopping and digging a piece of cake. If you are looking for a user-friendly, highly durable, well made and designed cultivator that doesn't break the budget, our hydraulic ATV cultivator attachment is perfect for you.
What can the ATV Cultivator Attachment do for You?
Whether you are breaking in new ground or getting ready for the next season of planting, a cultivator is a vital component for both landscaping and farming. To own or even rent a large cultivator or tractor can be expensive and not very convenient for storage. Wild Hare Manufacturing, Inc. offers a quality ATV cultivator attachment that can handle almost any job. Many of our customers have used our ATV cultivator for food plots, weeding, landscaping, large gardens, tree rows and so much more. It is an attachment that anyone with land should have on hand.
The Convenience of an Attachment
No longer do you need a separate tractor for every single type of job that needs to get done around your property. All you need is an ATV and our quality attachments. The cultivator attachment is used with the Wild Hare 3 Point Hitch. This quickly connects to the rear of the ATV. You simply attach the cultivator to the center link of the hitch and the two-lift arm with hitch pins. You'll turn the two valve handles on the rear and get to work!
Quality ATV Cultivator
Our cultivator attachment is made from solid steel. It is four feet wide and has both hydraulic upward and downward pressure. It also comes with a depth gage wheel with six different depth option settings. Because our ATV attachments are hydraulic systems, you will not bounce around or need to add any extra weight. It gives a large amount of downward pressure so that you have more control just by nudging your finger.
An ATV cultivator attachment is a quality cultivator that is user-friendly, stores easily, is extremely functional and productive, and it doesn't break the bank. If you have been in the market for a useful tool that tills, chops and digs, our ATV cultivator attachment is the perfect option for you. For more information about our ATV cultivator attachment, call Wild Hare Manufacturing, Inc., today at 1(218) 483-1000 or send us an email at info@wildharemfg.com.