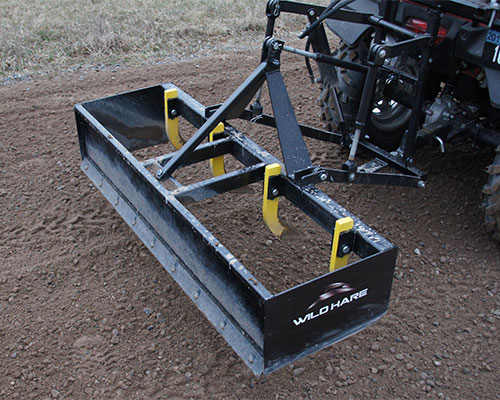 Do you have an ATV that is simply collecting dust in a storage unit on your property? What if you could transform that rarely utilized ATV into a resource that can help boost your productivity around your land? Well, by partnering with our team at Wild Hare Manufacturing, Inc., your ATV can become an effective tool. If you need to perform some grading around your property, our ATV box blade attachment is just the attachment that you need.
Effective Uses for the ATV Box Blade Attachment
What is great about our ATV box blade attachment from Wild Hare Manufacturing, Inc. is that it is a very diverse tool that can be used in a variety of ways. This attachment can be used on your driveway, arena, field, lawn, building site, etc. A sample of the ways that many of our customers utilize the ATV box blade attachment includes:
● Ripping
● Leveling
● Backfilling
● Grading
● Filling Potholes
● Removing Wash Boarding
Simple Installation
With so many ATV attachments, they often are extremely difficult to install. At Wild Hare Manufacturing, Inc., we felt it was necessary to make the installation process of all our ATV attachments very simple. With the ATV box blade attachment, the only thing you have to deal with is a super easy 3 pin attach and detach process.
Key Box Blade Attachment Facts
When making an investment, it's important to understand the fine details of the product. Our team at Wild Hare Manufacturing, Inc. is proud of every inch of our ATV attachments and feel that they are the best on the market. The 50" box blade ATV attachment is complete with 4 adjustable ripper/scarifier shanks which allow you to control ground penetration levels. For those focuses on pulling or backfilling materials, you'll love the two hardened cutting edge/leveling blades on this attachment. This attachment is made from high strength steel and has a baked on powder coat paint finish to make sure that you get the longest life out of this ATV attachment.
If you regularly maintain property and are in need of some extra resources that are affordable, it's time for you to wipe the dust off of that ATV that you own and put it to work. The productivity around your property will see a significant boost thanks to our ATV box blade attachment. To learn more about this effective ATV attachment or to order yours today, give Wild Hare Manufacturing, Inc., a call today at (218) 483-1000 or email info@wildharemfg.com.