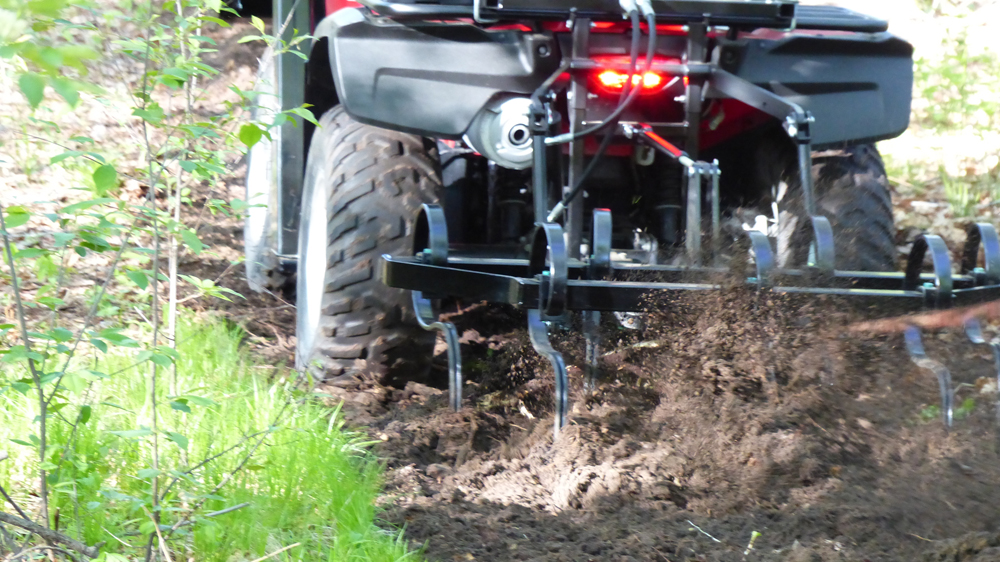 Are you an avid gardener with a few acres of land where you grow some of the best fruit and veggies around? Maybe you're a landscaper that could use a little help when it comes to some of the more labor-intensive tasks that you complete for your clients. Whatever the case may be, Wild Hare Manufacturing has some good news for you! We offer a variety of hydraulic powered ATV attachments that can help make common tasks around your land or your client's lawns much easier and faster. In this blog we'll outline a few of our most popular ATV attachments to show you just how useful your ATV can be when it comes to taking care of difficult outdoor tasks such as tilling, clearing, plowing, pushing and much more.
ATV Rear Three Point Hitch
One of the secrets to our system is our rear 3 point hitch. This system allows you to attach a variety of hydraulic powered attachments to the rear of your ATV. We offer two options when it comes to our three point hitch. One is a standalone unit for individuals who don't have any of our front facing ATV attachments and the other option is our add-on option that allows you to utilize our 3 point hitch along with our front ATV attachments.
ATV Rear Mount Cultivator
Use our hydraulic powered rear cultivator to get your garden ready for spring or your food plot ready for hungry wildlife. No longer do you have to stand behind a walk behind tiller – simply hop on your ATV and get down to business; you might even enjoy it.
ATV Rear Disc Harrow
Get your land ready for planting with our disc harrow attachment. This versatile attachment is 54 inches wide and uses hydraulics to deliver both upward and downward pressure. Get through your workload more efficiently with our convenient ATV implements.
ATV Front End Loader
Our front end loader easily attaches to your ATV and helps to save energy for you and your crew. Our loader can lift up to 500 pounds, up to 5 feet into the air, thanks to our high powered hydraulics and the middle mounting position. And don't worry about the load on your quad, we include suspension locks with each front loader.
ATV Front End Forks
Using our ATV pallet fork you can easily lift pallets, trees, hay, boxes, feed and much more. Just like our front end loader, the front end forks can lift 500 pounds of material 5 feet into the air. Imagine the possibilities!
Ready to Finally Put Your ATV to Work?
If you're finally ready to turn your ATV into a working machine, contact Wild Hare Manufacturing, Inc. today by calling 218-483-1000. We'll be happy to discuss our ATV attachments to help you find the perfect tool to meet your needs.