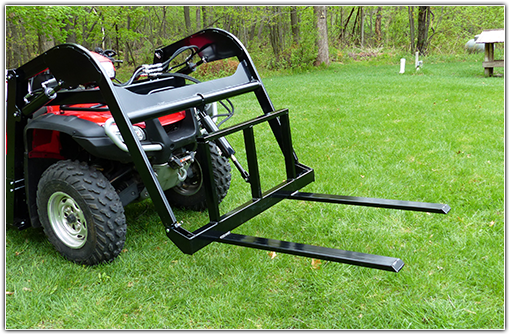 Are you looking for a way to make yourself more productive when it comes to your outdoor maintenance needs? Do you have an Arctic Cat ATV that is just collecting dust in your garage or storage shed? Well, at Wild Hare Manufacturing, Inc., we have a solution that you may not have thought of. Our dedicated staff can equip your Arctic Cat ATV as an extra resource around your property. How you may ask? Wild Hare Manufacturing, Inc., carries highly effective Arctic Cat ATV hydraulic attachments for your outdoor maintenance needs. We believe that you don't have to work harder to get all of the work done that you need completed, you just need to work smarter!
Effective ATV Hydraulic Attachments
Front End Hydraulic Attachment – All it takes is one initial middle mount installation that takes about 45 minutes, and your ATV will be transformed into a tool that can help you with all of your heavy duty work. This ATV hydraulic attachment for your Arctic Cat ATV will help you move around heavy items, push around dirt, transport plants, trees, or rocks and clean up things like manure. This attachment is powered by a strong hydraulic motor and pump. Additionally, this ATV hydraulic attachment is able to lift up to 60 inches high, so you don't have to bend down low and strain your back any longer.
Front End Pallet Fork Attachment – If lifting pallets, heavy boxes, piles of wood or cargo are part of your daily routine, the frontend hydraulic pallet fork attachment is the perfect option for you. This attachment can lift up to 500 lbs of weight and is incredibly easy to install and remove with just 3 clevis pins.
Auxiliary Hydraulics – The Auxiliary Hydraulics is an option that allows for the transfer of hydraulic fluid from the loader tilt in front to the 3 point hitch on the rear.
Rear Mounted Hydraulic Attachments – Choose between our Rear 3 Point Category "0" Hitch, Rear 3 Point Cultivator or the Rear 3 Point Disc option. The best features of these rear mounted attachments include ease of use, power and total control. Our cultivator attachment is great for weeding and tilling, while the 3 point disc option is perfect for busting up sod, aerating soil, breaking down dirt chunks and leveling out land.
At Wild Hare Manufacturing, Inc., we have a passion for helping individuals work smarter. It is time for you to consider our effective hydraulic attachments for your Arctic Cat ATV. To learn more about your options, give us a call today at (218) 483-1000 or email info@wildharemfg.com.