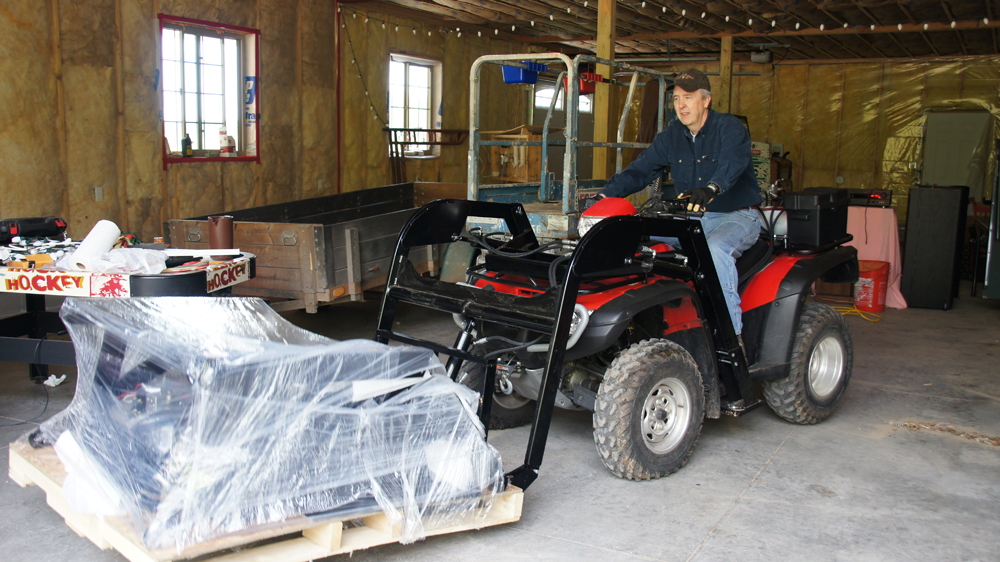 It's that time of year…time to be outside, time to do yard work on your property, enjoy the warmer weather, and, of course, spend time with family. It's also a great time to get projects done outside of your home to make your land look it's best. You may be wondering what kind of utility vehicle you may need to get that work done easily and efficiently and are weighing your options. Before you make a final decision, consider the following benefits of our ATV Front End Loader (or other attachments) as an alternative to investing in an expensive tractor or even a great addition to your fleet. You may be surprised to find that the ATV attachments give you much of the functionality that you may still need with a tractor and more!
You will save yourself a large amount of money purchasing ATV attachments over a tractor. In addition to the cost of the tractor, there are many attachments for the tractor that you must purchase to get what you need out of it. This is especially true if you already own an ATV.
It can fill that gap between a lawn tractor and a small farm tractor, without having to buy an additional utility vehicle. An ATV and attachments has plenty of power to complete most common tasks.
Much more nimble and able to get around and in tight spots in your lawn. Also easier to get into difficult places on your property like swamp areas, dense wooded areas and even inside barns and stalls.
The ATV with attachments is much more gentle on your lawn — it will not tear your turf areas up as much as a tractor.
It is much smaller and can be transported and stored much easier.
The ATV uses less gas than a traditional tractor and is easier on sprinkler heads.
The ATV simply offers more function than a tractor, and in short gets more use each year because it can be used for recreation purposes as well as for getting work done on your property.
It is much faster than the tiller on a tractor.
It has a proven long term design with no frame, transmission, or drive problems. Its Suspension locks provide load lifting capabilities while protecting your ATV suspension.
So, before you commit to a large purchase, do your research, read website, facebook and any other reviews you can find – you may just find there is definitely more than enough room for both a tractor and hydraulic ATV attachments on your property. Wild Hare Manufacturing Company produces an ATV Implement System that can give your ATV just the working functionality you may be missing. Order online, give our customer service team a call at 1-218-483-1000, message us on Facebook or email info@wildharemfg.com for more information!